For software engineers, one of the most tedious aspects of the job is to repeatedly push out code without a feeling of collaboration and teamwork. It's understandable to want to hop off the assembly line and make more of an impact. People at Contentful are empowered to do just that. No matter the obstacle, we strive together to bring about change.
From the get-go our engineers define the solution, determine the best way forward, work with the product, and define the scope. This is not only central to our company culture but makes up one of our core values, which is to embody a growth mindset. We have the collective potential to develop and evolve through dedication and continuous learning.
In this video interview, Brittany Walker, Developer Advocate at Contentful spoke with Jigyasa Mathur, Director of Software Engineering at Contentful, and Jeremy Burns, Senior Director of Engineering, about what it's like to work at Contentful. Read on for some highlights from their conversation.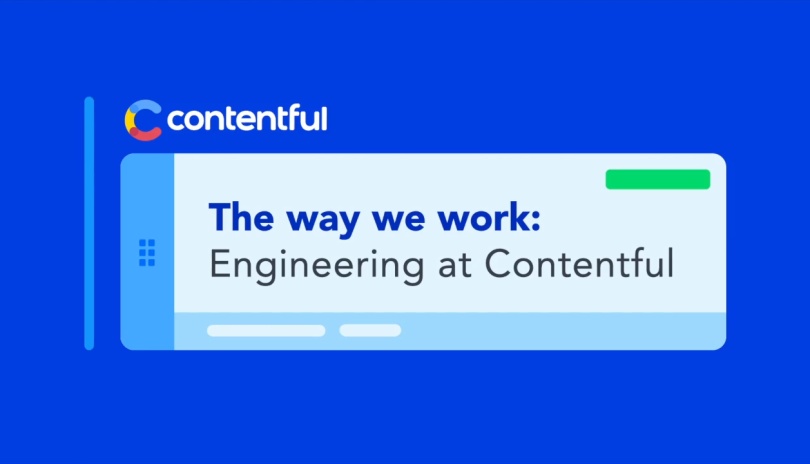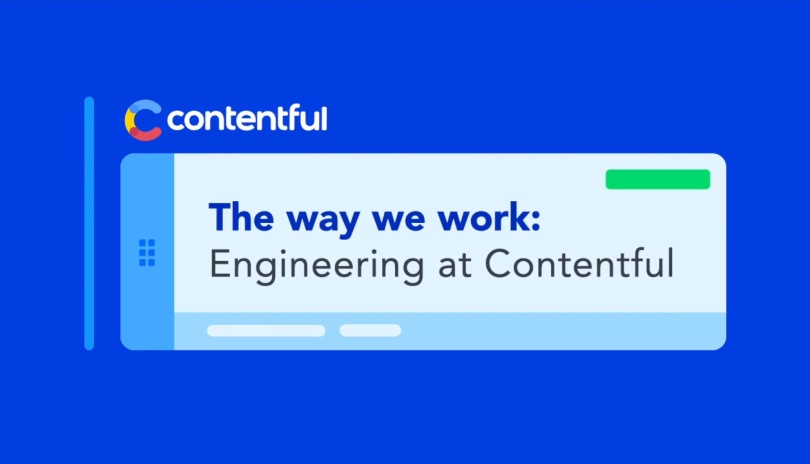 A customer-first approach
In our engineering teams, we start with the customer and work backward. We'll have you listening in on client calls to learn more about their needs. Some people like to put their heads down and code. And that's perfectly okay. But our product developers are encouraged to be more enthusiastic and attentive to the desires of our user base. 
"We often work with the non-developer, non-technical persona in mind," Jigyasa says about her team. "Content editors, release managers, publishers — those are some of the people that we create solutions for." 
Sure, there's always the conventional way of doing things: just one technical lead and one product lead, and you leave the two of them to hash things out together. Afterward, you get the lowdown and carry out tasks as delegated — but that's not an engaging way to get things done.
At Contentful, we do things differently. We work together with our customers and partners to get the most value out of our product. And if they'd like to champion Contentful in their workplace, we're ready to offer support. 
A collaborative team environment
No matter the obstacle, there are always opportunities to learn and collaborate. Whenever an incident arises, we don't leave people stranded without support. Instead, you'll have an entire team behind you ready to figure out what went wrong, how to fix it, and prevent it from happening again. Together, we find solutions.
"I won't go into the details, but some time ago there was an issue that was potentially quite serious and we realized what was going on," Jeremy says. "There was a Zoom call, lots of people joined in, people with different perspectives and different abilities, to find out where that problem was and how we might solve it. People ran away with specific jobs to do and they came back and it was a really, really collaborative experience."
This is not a culture of blame — or worse — people being shouted at. Instead, we want to determine how a situation came to pass and how we can prevent it from happening again in the future. This is all carried out during post-mortems: meetings in which we walk through the timeline and get to the bottom of the incident. 
There's room to explore and grow
For engineers at Contentful, there's never a dull moment and always new avenues to explore. We celebrate creativity and inquisitiveness, ensuring that big-picture thinking is top of mind. 
"Let's say you've been working in the backend for a while, but fancy working with Kubernetes for a change," Jigyasa says. "We support and encourage you to go for guest sprints. So, you could show up in another team, work with them for a couple weeks, see how it goes and then come back and bring those learnings. You're constantly encouraged to grow and learn within your team and within the organization."
If you love creating processes and efficiencies alongside passionate and like-minded individuals, Contentful is the place for you. You can dream up new ways of doing business and really make things happen. We're here to support you in building and developing cutting-edge products, ones that galvanize our field and lead the way forward. 
"I think one thing we do really well is empower people to not just think about problems, but dive in, write a one-pager and start proposing changes and start making things better," Jigyasa says. "You have that autonomy to go ahead and say, 'I don't like this. I want to change this, and this is how I propose we do it.'"
Through dedication and continuous learning, we believe in our collective potential to develop and evolve. This mindset envisions growth as integral to the working experience. Simply put, we champion the process of discovery.
Join us!
If any of the above sounds like a good fit for you, we encourage you to make an application! As part of the engineering team, you'll help build solutions that make a difference to customers, products, peers, and the company. Become a part of a culture and enduring success story accelerating digital experiences for major brands through continued innovation and expertise. 
Don't miss the latest
Get updates in your inbox
Discover how to build better digital experiences with Contentful.