As announced at Fast Forward Live earlier this week, we're pleased to share a portfolio of new orchestration capabilities designed to help companies launch digital experiences faster, consistently, and at scale. 
These features allow teams to more easily connect content across environments, quickly create content with pre-existing content models, and build apps that can connect to any environment from a central place. What once required custom development now comes out of the box.
Collectively, these features kick off a new stream of innovations that incorporate content orchestration into the Contentful® Composable Content Platform. The first step is easily connecting content sources anywhere within Contentful. In future product releases, we'll focus on connecting content from other systems as well.
As ever, the goal is to harness the power of composable content and augment it with additional features like personalization, metadata management, tagging, and more, without custom development. 
Content is at the heart of all customer experiences
As digital channels have expanded and customer expectations increased, how content is created and the ways teams work behind the scenes to produce it have had to change as well.
With content at the center of all customer experiences, every internal team must leverage content to drive results: customer support creates knowledge bases, marketing creates promotions and publishes blog posts, legal and compliance update terms and conditions.
When content is created in parallel without visibility into each other's workflows, silos form and processes slow to a crawl (or worse, a complete halt). Trying to scale these disconnected digital experiences down the road becomes a Mount-Everest-sized task.
To deliver customer experiences at scale, teams need flexibility, efficiency, speed, and consistency. Many organizations have stuck with legacy CMSes that seem easy to use for content creators but straightjacket developers and consign content to opaque silos that make it impossible to reuse freely and easily.
More sophisticated groups have gone the route of composable content. In this approach, teams gain autonomy with their own spaces that fulfill their needs without impinging on others. Distinct spaces can be defined however makes sense — by department, region, brand… anything. But while teams have tremendous autonomy and power to reuse within those spaces, it's still been a challenge to work well across spaces. 
Usually, the task of bridging the divide falls to developers, who create home-grown migration processes and scripts to piece things together. This time-consuming and tedious manual work leaves them focused on one-off tasks instead of more creative, impactful projects. 
To unlock the power of digital content in today's customer experience-focused era, teams must achieve operational agility — and that agility starts with orchestration. 
Orchestration connects content sources and teams across the organization. By enabling teams to work autonomously, yet in coordination, they can create, manage, and deliver content with greater cost-efficiency, consistency, and speed. Now that's operational agility.
Orchestrate content, content models, and apps across digital experiences
This release highlights three core updates we're making to help teams establish better workflows and efficiencies at various stages of the content lifecycle. 
1. References 
In our conversations with customers, one of the most requested features has been a way to connect content across environments and spaces.
Dedicated spaces are great for organizing content by team or use case; however, these isolated spaces perpetuate content silos and force manual duplication of content from one space to another. Each time content is manually carried over, the risk of content errors increases. That's a risk no developer or content creator should have to take — and they don't have to with our references.
Developers and administrators can now create and manage references to connect content across spaces, facilitating content reuse while eliminating complicated workflows and duplicative efforts. With a unified platform, teams can access content across groups, markets, and brands, with just a few clicks.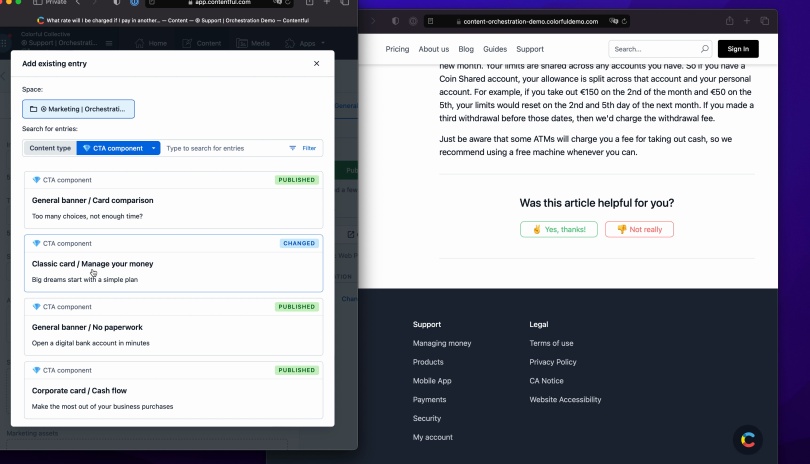 For example, consider a business (we can think of quite a few) that has several independent teams launching different elements for an upcoming Black Friday campaign. 
Each new landing page requires a legal disclaimer and rather than risk copying an incorrect or outdated disclaimer — which could produce a litany of problems for the company — each team references the same content type containing approved legal copy. 
If the legal team needs to amend any portion of the disclaimer, they can go into the legal disclaimer content type, make the update, and it will be automatically applied across every landing page (or any other place) that references it.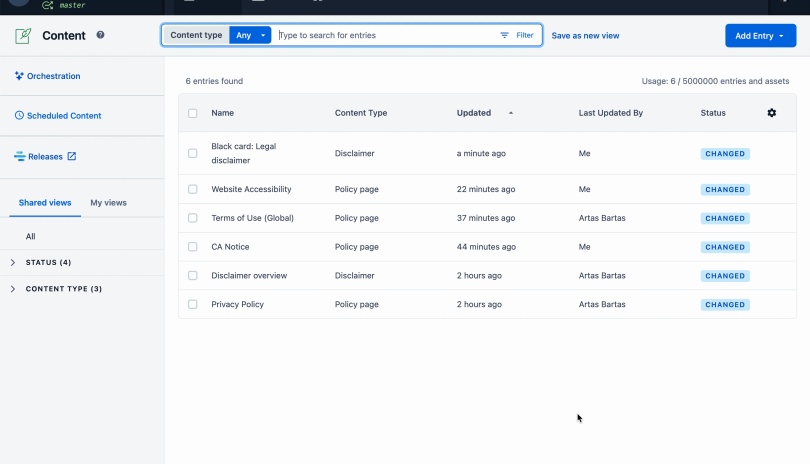 2. Content models 
Speed to market is critical. By giving content creators — marketers, copywriters, and designers — the ability to autonomously create content, their dependence on developers decreases, while creation and publication timelines accelerate. A library of pre-existing content models is what makes this speed to market happen. 
Now, within Contentful, platform owners and developers can create a robust library of content model templates that can be synced across spaces. It's exponentially easier (and quicker) to create and sync components across spaces, experiences, brands, and so on. Little to no coding of migration scripts needed.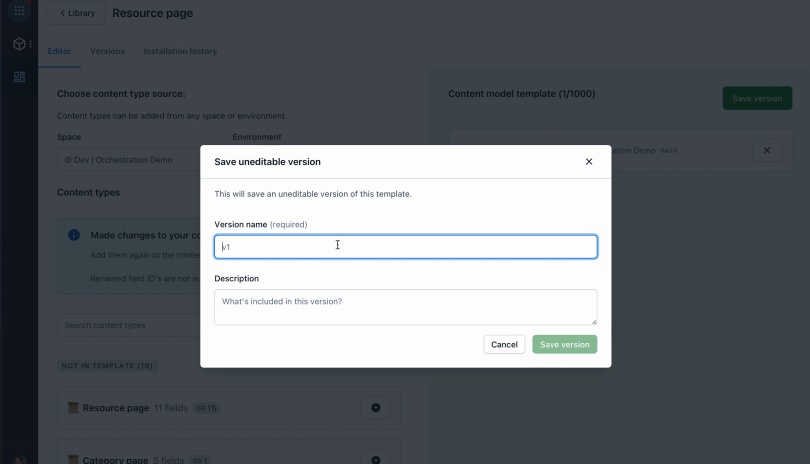 For example, one of our customers regularly updates their content model by saving it as a new version of a content template. Using this template, they update the content models across spaces set up to serve different markets.  
Other customers see this as a way to more quickly launch new sites or brands, building on all the good thinking that's already gone into building effective content models for the purpose. 
3. Apps
Eliminating low-value tasks makes development teams inherently more flexible — and frees them to focus on more important work. Along with references and content models, custom apps — really any apps — can now be synced across spaces. 
Teams can deploy, provision, and manage apps from one central place, in any environment in any space. App management this easy might just inspire you to create bespoke orchestration pipelines and custom UIs you wouldn't otherwise have.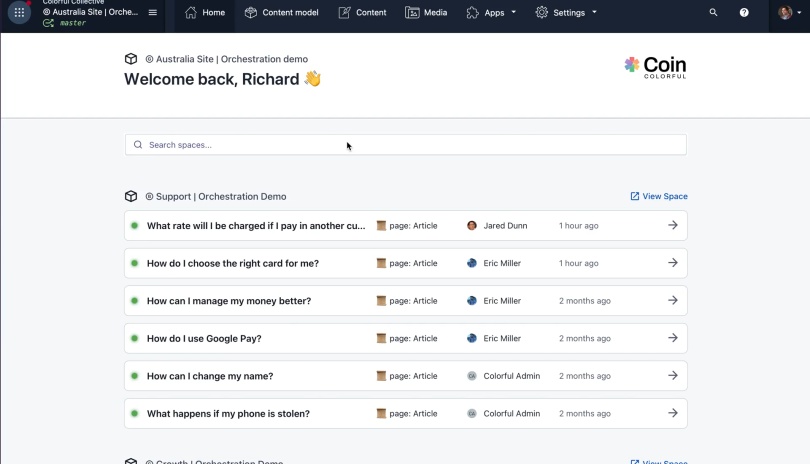 We love it when a plan — and all its content — comes together
We've said it before and we'll say it again (a little louder for the people in the back): content is the customer experience. And that experience must be consistent across all channels, brands, markets, and the customer journey. In the digital-first world, it's critical for businesses to deliver these dynamic experiences — starting with providing the teams building them with tools to deliver both speed and scale. 
Dynamic experiences demand greater flexibility, efficiency, speed, and consistency. Our new out-of-the-box orchestration capabilities are just the start to making that a reality. There are more capabilities to be added in support of sophisticated content orchestration, but we're just getting started. 
Don't miss the latest
Get updates in your inbox
Discover how to build better digital experiences with Contentful.