Black Friday is always a busy time for retailers, and bargain hunters aren't just on the prowl for discounts on phones, TVs or home appliances. They're also looking for deals on behalf of their beloved pets. 
One of the market leaders in the European D2C (direct-to-consumer) pet food market, Pets Deli is a purveyor of high-quality food and supplies for both feline or canine companions. For Black Friday 2021, the company saw its online conversion rates increase by 51% compared to the same day the previous year.
The reason for this impressive jump in conversions? Personalization. 
Using a personalization solution from Ninetailed, Pets Deli could quickly identify which pricing strategies were most effective in converting visitors into customers, and make changes accordingly.
The results? An increase in conversion rates of over 50%, plus a 10% lower bounce rate. This is even more impressive when compared to an industry conversion rate of 10 to 15%, according to a McKinsey report.
In this post, Andy Kaiser and Esat Artug from Ninetailed take us through this stellar success story by explaining who they are, what they do, and how their personalization solution works with Contentful.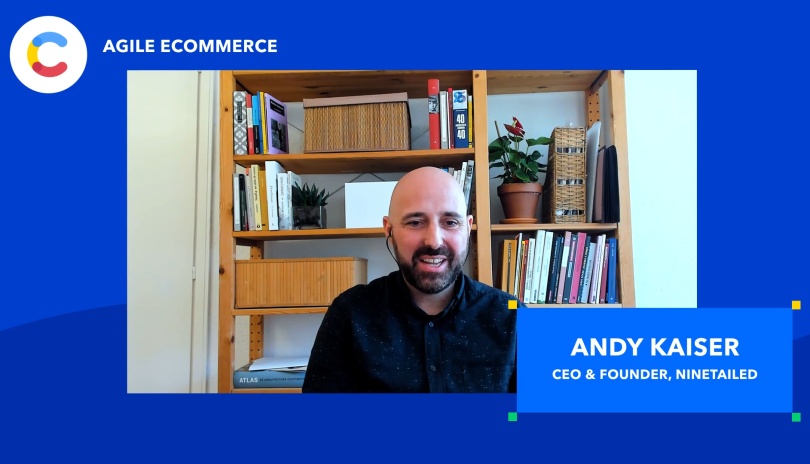 Creating real-time omnichannel personalization experiences
Ninetailed is an API-first solution that creates real-time omnichannel personalization experiences to optimize the customer journey without performance trade-offs.
Utilizing a MACH (Microservices-based, API-first, Cloud-native SaaS and Headless) and modern stack approach, Ninetailed makes it easy for clients to create personalized experiences and build "perfect audiences." 
This is possible by tracking multiple intent signals and unlimited traits, such as: 
page behavior,

location,

campaign,

email behavior, and so on.
It's even possible to integrate dynamic events from other APIs for firmographic, shopping and any other type of data.
Ninetailed also has an app available on the Contentful Marketplace, Ninetailed Personalization, which enables you to dramatically improve your customer and shopping experience without any compromise in web performance.
Other features made possible with the Contentful and Ninetailed integration:
API-First Personalization: Since the MACH approach enables composable architecture, and Ninetailed has a personalization API for Contentful, you don't need to use another tool. You can do all of your personalization activities within Contentful.   

Composable Architecture: As you can see from the image above, Ninetailed can integrate with different tools like Customer Data Platforms (CDP), Customer Relationship Management (CRM), email marketing services, analytics tools, etc. 

Unified Customer Profiles: Because Ninetailed integrates with data sources and destinations, it allows you to create a single source of truth — a unified customer profile. 

Real-Time Personalization: Unified customer profiles enable real-time, omnichannel personalization for all of the customer touchpoints.

Privacy: Ninetailed has a privacy-first approach which integrates with data sources, and you can use your own data (zero-party and first-party data) for personalization.
What did Pets Deli want to achieve for Black Friday 2021? 
Eight weeks before Black Friday 2021, Pets Deli approached Ninetailed with a brief to create a series of personalized campaigns for its customers. This was one of the biggest sales events of the year and the company wanted to make sure that its customers received the best deals possible.
In the most straightforward terms, Pets Deli wanted to create unique experiences for its customers by offering custom pricing on products, and promote this tailored pricing via personalized content on its website.
Another goal was to move beyond the use of promo codes. Pets Deli was dissatisfied with its sales strategy for Black Friday the previous year. There were issues such as UX problems at the checkout, misuse of codes, and attempted usage after the codes had expired. There were even instances of customers forgetting to enter the code during checkout. 
The client wanted something more sophisticated that would eliminate this promo code friction while still attracting new customers during this important period. Personalized pricing is better than promo codes because:
It doesn't require any thought from the customer.

It's easy to scale.

It can increase conversion rates (obviously!).

It can reduce bounce rates.

It can help expand the market size.
Although two months' notice is a relatively short amount of time to create a personalization campaign from scratch, both Ninetailed and Pets Deli were confident that their preparations would lead to a successful event for both customers and the business.
The integration didn't start until two weeks after the first touchpoint — so in actual fact, Ninetailed and Pets Deli had only six weeks to make this partnership a success!
Composable modern technology stack: Seamless integration between Shopify, Contentful and Ninetailed
Pets Deli has an ecommerce website using Shopify as an ecommerce solution, an in-house customer database and Contentful as a content management platform. 
From the company's perspective, seamless integration between Ninetailed, Contentful and its current technology stack was key to keeping its business running smoothly while allowing it to scale up with personalization.
But because Pets Deli has a modern composable tech stack and Ninetailed has integrations with both Contentful and Shopify, its development team was able to integrate Ninetailed with its existing tech stack within 24 hours of both parties signing a contract.
Pets Deli Chief Technical Officer Sascha Turowski was delighted with the progress that had been made:
"I found Ninetailed's API to be most flexible, easily integrating with our current tech stack and quickly enabling new features. By easy integration of Ninetailed to our current technology, they're helping us deliver on our mission to create personalized experiences for our customers."
After several more development sprints, Pets Deli had integrated its backend and coded all User Interface (UI) elements for the Black Friday campaign. The marketing team now had the ability to select any product (and corresponding price) to personalize it from within Contentful. 
Pets Deli's marketing team was able to get to work without additional coding or development, and they rolled out the Black Friday campaign in time with an extensive marketing plan.
The marketing team could now personalize the content on Contentful with the data coming from Shopify and the in-house customer database, as well as easily manage their personalization efforts without having to worry about any additional technical solutions or details.
If anything, these native integrations and composable architecture were a big boost to the marketing team. They were able to start creating their personalization campaign right after the integration was completed because they could do everything within Contentful — like uploading a new content piece.
By integrating Ninetailed with its tech stack, Pets Deli now has unified customer profiles and real-time delivery for its personalization campaigns.
1. A unified customer profile to create a single source of truth
Having a unified customer profile is one of the most important elements for successful personalization.
With Ninetailed, Pets Deli was able to use a unified customer profile for more relevant personalized experiences. This means it will always have the most up-to-date information about each of its customers, so it can provide them with the best possible pricing strategy.
Ninetailed created a unified customer profile that matches all the information that Pets Deli requires for each customer. This means Pets Deli can easily understand each customer's purchase history and preferences, and provide them with a more personalized shopping experience.
2. High-performance edge API for real-time delivery
In addition to unified profiles, offering real-time delivery is another of the key pillars for meaningful personalization.
With Ninetailed, Pets Deli is able to provide a unique and tailored experience to each of its website visitors in real-time. Ninetailed's high-performance edge API makes it easy for Pets Deli to add personalization to its website without delays or missed opportunities.
This means that Pets Deli is able to identify the right personalized pricing strategy for the right customer at the right moment.
The results of the Black Friday personalization campaign
Pets Deli identified different types of customers and each segment was offered a unique set of prices and promotions that appealed to their specific needs. This approach proved to be immensely successful, as the company was able to increase its conversions.
To promote personalized pricing strategies, Pets Deli used personalized content for each customer segment. When a customer landed on the website, they saw personalized content promoting personalized pricing in real-time — thanks to the unified customer profiles and high-performance edge API for real-time delivery. 
Since the launch of its personalization campaign, Pets Deli has seen some impressive results during Black Friday. The company's efforts have helped it boost conversion rates and drive more sales. Here are the main outcomes of its campaign:
51% increase in conversion rate

bounce rate decreased by 10%
And to reiterate, thanks to the Ninetailed API-first approach and Pets Deli's composable commerce architecture, it was an easy and fast integration.
The flexibility of a composable commerce approach
Adding personalization to your marketing stack can greatly improve its performance — but many solutions require time or knowledge to learn new tools.
Since Pets Deli has a composable modern tech stack and Ninetailed seamlessly integrates with Contentful, teams in Pets Deli could add personalization capabilities within Contentful without learning any new tools.
And in addition to implementing a personalized pricing strategy, Pets Deli also used personalized content and hero visuals to promote the tailored pricing to its customers. When creating and managing content, it's important to have the ability to personalize each component for different audiences, channels and purposes.
With Ninetailed, Pets Deli did just that with Contentful. The powerful content personalization capabilities made it easy to add dynamic content components to any page or post.
And since Ninetailed has a no-code integration for Contentful, it empowers companies to personalize different content components — more specifically, any content component it has  within its Contentful dashboard.
More about the Ninetailed Personalization app
Ninetailed Personalization for Contentful enables you to create personalized experiences to improve your clients' customer and shopping experience without web performance trade-offs.
With the best developer experience thanks to easy integration with SDK & plugins for major frameworks, e.g., React or Gatsby. Integrate Ninetailed in less than 10 minutes and use the tools and workflows you love.
Create personalized experiences and audiences effortlessly within Contentful. The best content creator experience, as there is no external tool needed. You can focus on content creation and workflows.
Features
SDK and plugins for major frameworks (e.g., React or Gatsby) for easy integration in minutes.

Create personalized experiences seamless within Contentful.

Build perfect audiences and segments with multiple signals, intents, and unlimited traits within Contentful.

Integrate dynamic content personalization with your stack.

Geo Distributed CDP and Analytics SDK compatible with Google Analytics.

Client Side and Edge Side reRendering for best page performance.

Extensive free tier and support.
Requirements
None, you will create a Ninetailed account and API Key in the install process.
You can find the Ninetailed Personalization integration on Contentful Marketplace, together with more details on installation, documentation and support.
Taking personalization further
Pets Deli is now looking to expand its personalization program even further. This means that customers will be able to receive personalized offers and content more than before, and not just during special events like Black Friday. 
The final word goes to Pets Deli and Sascha Turowski:
"There's nothing comparable to Ninetailed's personalization solution in terms of easy integration and flexibility for advanced ecommerce websites using the Jamstack. This, along with their ridiculously exceptional customer service, makes them a powerful force." 
If you'd like to increase your sales and conversion rates, learn more about Ninetailed Personalization and see how you can start implementing personalization for your own customers.
Don't miss the latest
Get updates in your inbox
Discover how to build better digital experiences with Contentful.