Contentful was founded on the idea that to create impactful digital experiences for people, you need the ability to centrally organize and manage content. 
That remains true for our core business, but what's also true is that the needs of digital teams have become bigger and more sophisticated as customer expectations and organizational needs have grown.
Announced today are a set of new capabilities that promise to evolve the content experience for both technical and non-technical users of our composable content platform. We're establishing a new way for digital teams to innovate and collaborate — helping them to unify, create, iterate, and optimize their content experiences.
Available within Contentful Platform, Contentful Studio, and Contentful Ecosystem, these advances dramatically ease the burden on developers and IT teams while smoothing the path for marketers and other content teams to do what they do best: engage customers through the power of digital content.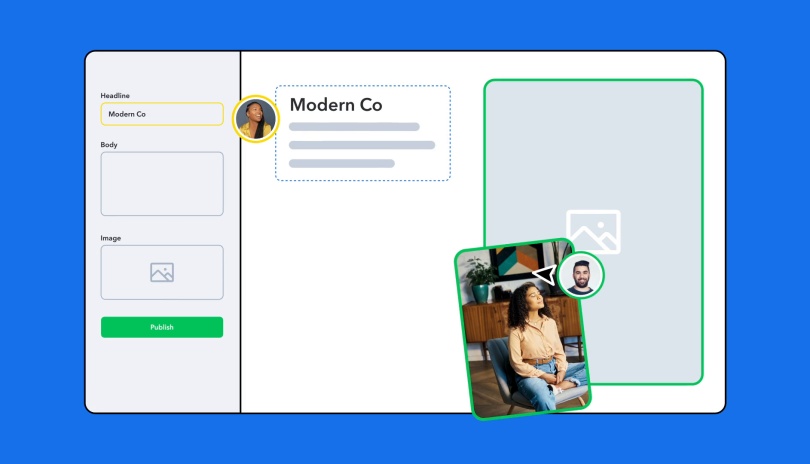 Contentful Platform: Greater momentum for developers and digital product teams
Unifying and connecting content is all about bringing content together from anywhere —  from your commerce systems, digital asset management system, your customer data platform — and bringing it together into a single content graph. The content graph maps all of your content and how it relates, no matter where it sits, whether it's in different tools, formats, or departments of an organization.
We're also launching a number of new features to empower teams to connect and collaborate more easily. Tools like Visual Modeler and AI Content Type Generator will give all teams — developers, designers, marketers, or any others —  the platform they need to do their best work. 
And we're excited to bring new features to our platform that make it possible for brands to build meaningful relationships with their customers through intuitive omnichannel marketing strategies. 
Features like multi-experience orchestration, external references and cross-space references will provide messaging and visual consistency across all digital touchpoints, while making the most of distinct types of engagement that each channel brings — say a mobile app, a video game, or a social media platform. 
Eliminate content silos with multi-experience orchestration
The Contentful Platform enables teams to connect content from anywhere in order to deliver digital experiences across brands, channels, and regions at scale, and we're leading the way with innovations like multi-experience orchestration. 
Multi-experience orchestration breaks down content silos and connects content from across the organization to build a comprehensive content graph, which can be modeled and then organized into spaces to serve content-driven experiences across multiple brands, use cases, regions and/or channels. 
With a centralized view from within Contentful, teams will find it almost effortless to go from idea to execution, no matter where their content resides or where they want it to go. 
Access and reuse content with external references
We're expanding our orchestration capabilities to encompass more than just internal sources of content. Contentful can just as elegantly orchestrate content coming from "the outside" — and that is where external references come into play.
External references build on a simple but powerful idea: what if our customers could deliver content from third-party sources via Contentful APIs? Historically, developers would integrate different content sources by building a middleware layer, but the problem with that is that integrating data sources in the middleware introduces a big overhead.
We've broken new ground on external references by building delivery functions for several highly-requested content sources: eCommerce, Digital Asset Management (DAM) and Product Inventory Management (PIM) systems. Enabling customers to access their external content sources through the Contentful API takes much less effort than it would if the customers were to build that middleware layer themselves.
And ultimately, we envision a world where Contentful customers will be able to develop their own delivery functions and integrate all kinds of API-enabled content sources into their Contentful instances. We're calling these custom references, but we're not ready to take the wraps off that capability yet… Stay tuned!
Organize and manage content with cross-space references
Cross-space references enable customers to efficiently reuse content across Contentful spaces to streamline content creation, management, and performance, at scale.
We first released this feature a little over six months ago, and we're adding new features to improve the experience of working collaboratively across spaces:
A way to encode your API keys to work across the entire fleet of connected spaces, providing a more elegant authentication method;

A way to fetch all the referenced data with a single API call, resulting in simpler code and more performant applications;

And a way to link to entries across not only spaces but also environments, enabling a more diverse set of use cases, especially for companies using CI/CD pipelines to release new features.
And content creators will be excited to see that we've also enabled cross-space references in the Rich Text Editor, making it possible to combine text content with marketing messages, brand assets, and creative promotions.
Contentful Studio: More freedom for marketers and content creators
While the Contentful Platform itself is open and extensible — which provides tremendous flexibility for developers — other stakeholders like designers, marketers, and content editors want more guidance. 
We've been taking this feedback from customers and building a ton of new capabilities that are designed for the particular needs of these digital teams, including enhancements to Contentful Studio with live preview and Experience Builder. This release offers marketers the most innovative way to design experiences within Contentful.  
Intuitive tools for daily work
As consumers, we all recognize the impact of differentiated and personalized digital experiences when interacting with a brand. Marketers, designers, and content creators understand this better than anyone. 
That's why we've refined the content creation process, enabling teams to visually assemble this content into digital experiences for their customers, right from within Contentful Studio.
Creating modern, composable applications requires digital teams to embrace a different way of working, thinking, and visualizing content. Constant reuse of existing content blocks to create new pages and experiences is what makes composable content platforms like Contentful so powerful. 
But the ability to reuse content can also introduce new complexity. Content creators have to mix and match individual components to orchestrate a time-sensitive launch. Our work on features like live preview — which streamlines the publishing process by enabling you to evaluate and revise content in situ — gives these creators intuitive tools for doing their daily work.
Craft exceptional experiences with Experience Builder
Let's talk about an entirely new capability that we'll be rolling out: Experience Builder. With Experience Builder, we're empowering non-technical users to create and build new experiences without relying on developers. 
Experience Builder gives marketers and designers not just a way to edit and create content, but also to craft the standout customer experiences this content will feed. Marketers can make use of a brand-new capability: Create bespoke pages and maintain full control over the visual look and feel of these pages — without relying on developers to implement those content changes.
Similar to what we've done with content by breaking it down into its component parts to build impactful interactions across any channel, we've taken a similar approach with Experience Builder. We start by importing and defining the design components that marketers can then use to build a layout or an entire page that is on-brand and maintains design consistency as these experiences scale. 
The Experience Builder is currently in our Early Access Program (EAP) with a select set of customers helping us craft the final version that will start to see wider availability in the spring. Get in touch with your Contentful expert for more information.
Contentful Ecosystem: Extensibility for everyone
We'll continue to innovate and build out native capabilities inside Contentful, but the real power of our composable content platform is the ability to integrate into and extend it in whatever ways you need.
For marketing teams in particular, the reality of creating dynamic, engaging experiences means a long list of different tools and a major tradeoff between either wonky integrations with flexibility or tight integration with little scope for change.
Contentful's approach to extensibility combined with a robust ecosystem — comprising our Marketplace, partners, and App Framework — is designed to overcome that tradeoff and make it straightforward for businesses to build the combination of capabilities that's best for them.
Integrations like Ninetailed Experimentation & Personalization allow Contentful users to be more strategic in deciding what content to personalize as well as instantly understand the impact of these efforts by reviewing relevant statistics. 
Meanwhile, Surfer offers a powerful suite of SEO editorial tools to craft compelling content, while Writer shows the way for responsible and credible use of generative AI in copy creation.
And in collaboration with AWS, we've launched an AWS Amplify integration — and a Contentful listing on the AWS Marketplace. That allows for integrated purchasing, something we hope our friends in procurement will love.
The capabilities offered by our technology partners clearly demonstrate how powerful the composable architecture approach is and how much value can be unlocked by integrating modern, market-leading tools.
Incorporating a flexible set of Generative AI tools
There's an important context in which these new features are developed — recognizing the power and the potential of Generative AI. Along with other AI tools, Gen AI represents a paradigm shift in how we approach a wide range of jobs and objectives. 
Contentful already provides the framework for integrating not just content, but a wide array of capabilities to source and make use of that content. So, it's an obvious extension that we would incorporate a flexible set of AI tools as well.
Contentful Platform: The AI Content Type Generator that has been trained on an extensive collection of content models and is capable of generating a matching content type based on your description. By reducing the amount of effort it takes to create a content type, the AI content generator invites users to explore and prototype before settling on a specific structure. And that, in turn, opens the possibilities for more creative and streamlined content creation processes downstream.

Contentful Studio: Editors can make use of AI Content Generator and AI Image Generator, powered by our partner OpenAI. To activate them in your space, you will need to have your OpenAI credentials ready. Setup takes less than a minute, and once you start using these apps, it's hard to go back to the past where everything had to be created manually.

Contentful Ecosystem: We have a growing selection of AI apps in the Contentful Marketplace which can enhance copy production, editing, and translation, including Writer, SurferSEO, Lokalise, and Contenda.
This is building on what has already begun to naturally unfold. Our customers and partners have already been experimenting and trying out AI tools for themselves — migrating, searching, and dynamically creating content. They're accelerating their innovation cycles in parallel with ours. 
Wrapping up
Behind every great, impactful customer experience is a digital team powering it. Within a digital team there are many roles — developers, designers, marketers, content editors — with different needs, who must collaborate and work together to bring those impactful experiences to life. 
Today's launch is about introducing new capabilities to support teams grappling with big projects and how best to deliver them. We're confident you'll be able to ship your digital projects more successfully, and supercharge your creativity in the process. 
Eager to learn more? We'll be digging into the details with several demos of these features at the last stops of the Storylines Tour in Silicon Valley and Berlin over the coming weeks. Or check back here on the blog for more stories about our product and ecosystem advancements.
In the meantime, new products and features for Contentful will begin rolling out to customers, with the most generally available now, and others to follow a limited early access program.  
Don't miss the latest
Get updates in your inbox
Discover how to build better digital experiences with Contentful.